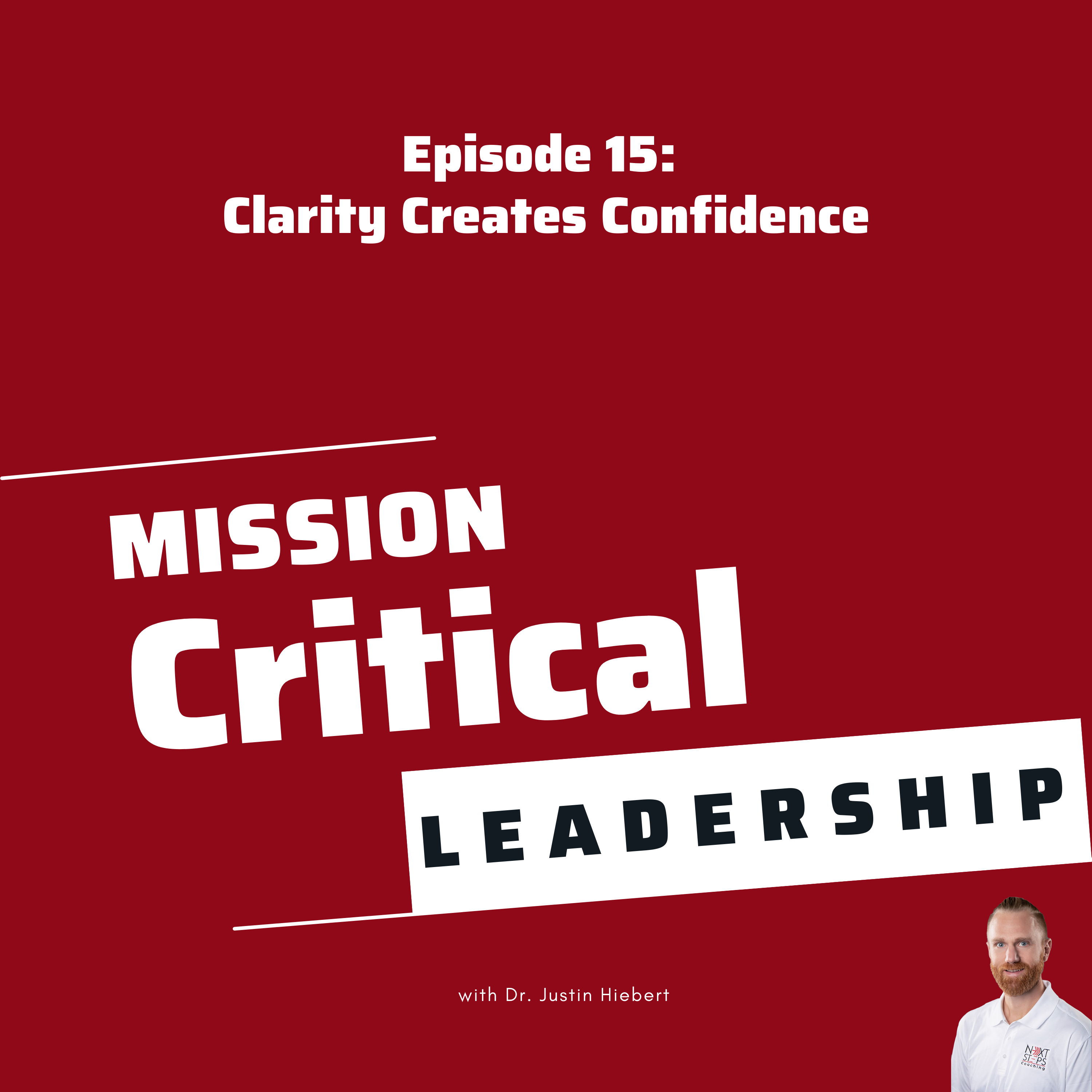 In life, everyone gets stuck. The important thing to remember is that clarity creates confidence. In episode 15 of the Mission-Critical Leadership Podcast, we talk about three ways we get stuck, and I'll cover three ways to break free and pursue the life you've always wanted.
Clarity Creates Confidence
Everyone experiences a stuck mindset in three primary ways:
A lack of Discipline. (You can't live from a place of motivation, you need to have a plan to be intentional in your energy expenditure).
A lack of Resources. (Determine your true need and bare minimum needed for progress, don't get sucked into starting "later" when you have it all together).
A lack of Risk. (If you don't know what's at stake, you have no personal risk or reason to be uncomfortable).
To counter this, there are three ways that we can break free of these stuck moments in life. The bottom line is that clarity creates confidence.
Get clear on your routine. (This helps instill discipline and the ability to execute the plan).
Get clear on what you need. (Determine the difference between 'wants' and 'needs').
Get clear on what is at stake. (Figure out your 'why' and the risk of not pursuing your dreams).
In This Episode
In this episode, we talk about those moments when we're overwhelmed, exhausted, lacking in focus, and unmotivated. We talk about what gets us stuck, and how we can overcome it.
Three ways of experiencing the stuck mindset.
The three action steps that empower action and inspire growth.
How mission-critical leaders inspire others.
Looking for the TL;DR version: get clear on what you want, where you're headed, and why that matters. Clarity creates confidence.
About Justin
Dr. Justin Hiebert works with mission-critical leaders to accomplish the unimaginable. Realizing this, Justin believes that no leader needs more things to do, so he works with his clients to get the right things done. His clients rise above burnout, captivate their teams, and transform their communities. By engaging their hearts and minds, his clients unlock their full potential to be, do, and have it all. This affords them the ability to leave a legacy of influence and impact on the world. He is a husband, father, teacher, learner, and champion of joy. He resides in Bakersfield with his wife, four kids, two cats, and one dog. In his free time, he loves exercising, riding motorcycles, and doing anything outdoors.
Podcast: Play in new window | Download
Subscribe: RSS