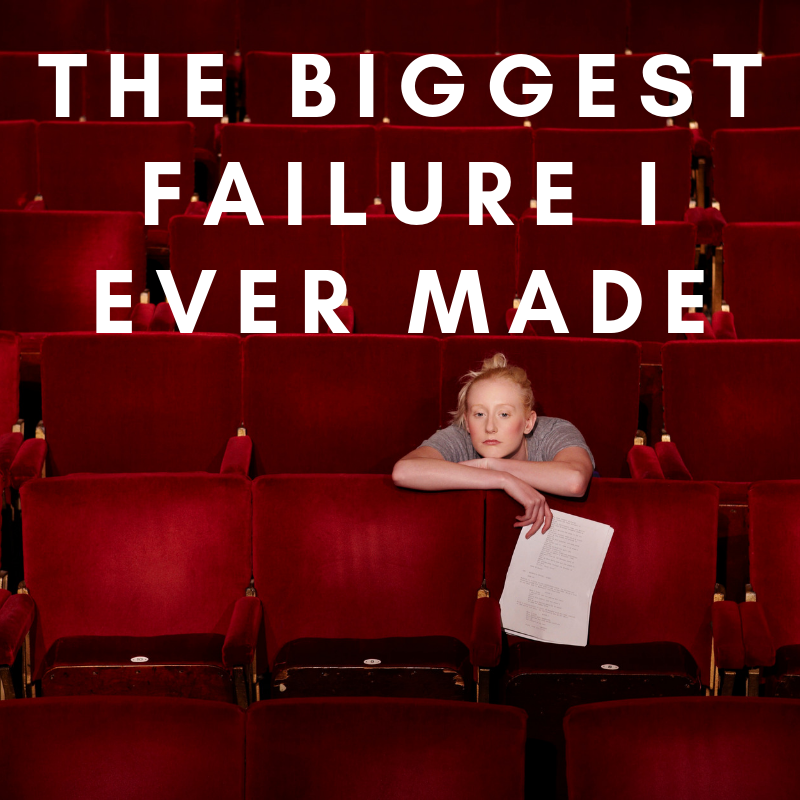 The Start of The Problem
At the end of my fifth-grade year, I took part in our annual school play. Put on entirely by the fifth graders, it was supposed to be a way to introduce kids to the arts program before band, music, and other opportunities opened up.
For me, it became a self-defeating narrative that plagued me long into adulthood.
When the parts of the play were announced, I was excited. I had always been an outgoing, energetic, and rambunctious kid. Fairly outgoing, I thought that this would be a wonderful time to explore acting.
I got the practice lines and spent weeks rehearsing them.
Before school.
After school.
With friends.
In the mirror.
I wanted to nail one of the lead roles.
After the auditions, the music teacher announced the roles by posting them on the bulletin board outside her classroom. I excitedly went up to find my name.
Except, it wasn't listed alongside any of the starting roles. Or any of the secondary roles.
On the roster, I was listed dead last. In fact, I think my official role was titled, "Person #6" or something like that.
The rule was that everyone had to have a part. I was listed even below my friends who wanted no part in the play. It was almost like they went, "Oh crap. Not everyone has a part. Let's make some up."
I felt like a failure.
Hurt.
Embarrassed.
My only part was at the very end of the play. After almost an hour and a half of watching everyone else get up on stage and do something exciting, I got into position for my scene.
What did I do?
At the very back of the stage, behind all the singing and dancing of almost the entire fifth-grade class, I walked from stage left to stage right.
No stopping.
No speaking.
No interaction.
The Biggest Failure I Ever Had
That moment is the biggest failure I ever had.
Well, not quite, but I also see how that experience, in many ways, led to a lot of my other failures.
From that moment I took away a feeling of shame and embarrassment.
I let that moment define much of the next 25 years of my life in one way or another.
Why try something new? You'll just be "Person #6" again.
Why put yourself out there? Remember the last time you did that how you got nothing out of it anyway? Just quit.
"You're not good enough."
"Don't embarrass yourself again."
"You're a loser."
"You can't do anything right."
My narrative, until I was almost thirty resonated with many of these thoughts. Thankfully, through years and years of therapy, coaching, and personal development I have been able to (mostly) shake that false narrative.
The real tragedy
But there is a real tragedy and a real failure in all of this.
One that I could easily say is the biggest failure I ever had.
What is it?
I listened to that awful narrative. For nearly twenty years, I let one failure and setback dictate the rest of my life.
It was why I could never be a good enough student.
Run for a school position.
Emerge as a leader.
Become a good husband.
Be a good father.
The biggest mistake I ever had, was letting my mistakes define me.
Having a growth mindset
Now, after those years of therapy, coaching, and personal development I try to practice a growth mindset.
A firm and unwavering belief that I can (and will) learn from any and every situation.
Tried a new weight limit for squat? Got buried at the bottom. Okay, not a big deal. What can I learn to improve and get stronger?
Lost my temper with my kids? Not who I want to be. What happened? How can I better control my emotions?
Lost a sale or business venture? It happens. How can I improve so I close the deal the next time?
Nelson Mandela once said, "I never lose. I either win or I learn."
That's a key foundation to a growth mindset.
Failure is only fatal, only final if we use it as an excuse to quit or give up. Otherwise, it's a learning opportunity.
Don't let the greatest failure you ever make be the acceptance of a (false) limiting belief or narrative about your life. Embrace failure and use it to make yourself, and those around you, better.
What's your greatest failure?
What lesson have you learned from it?
Leave a comment below!