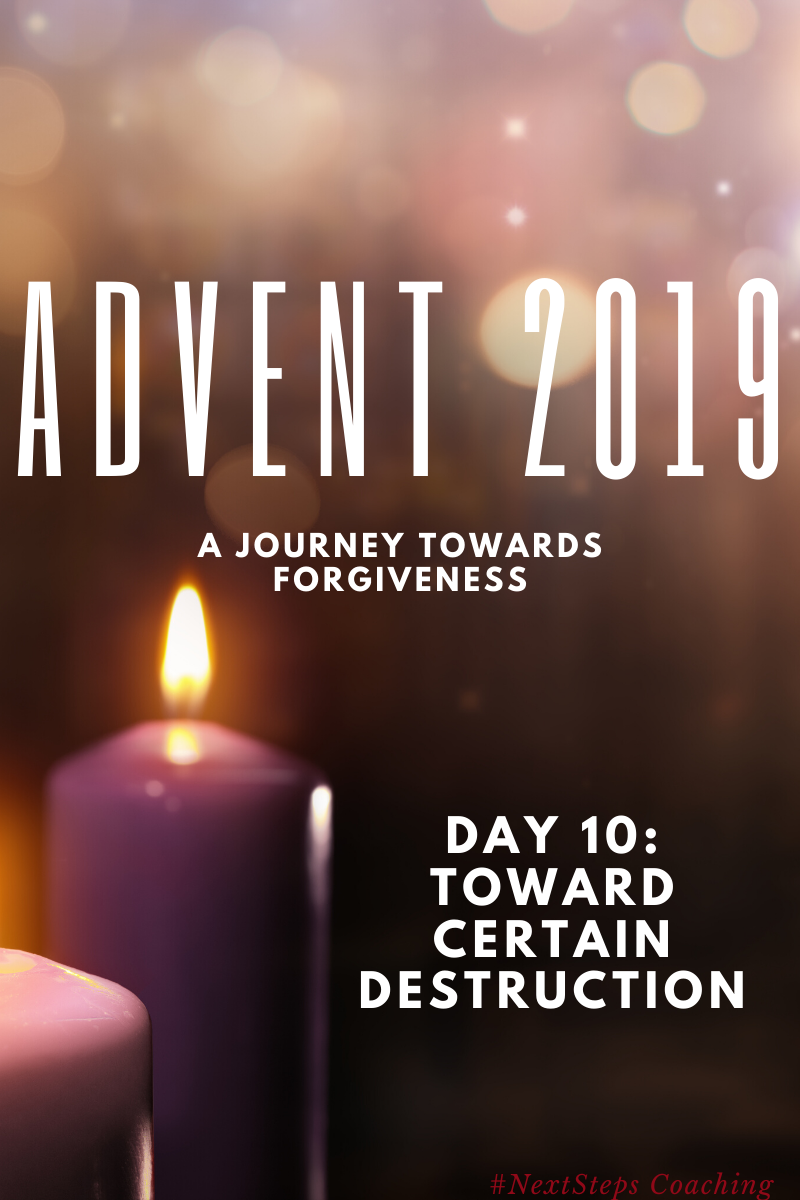 Here's the point. God didn't send His Son into the world to judge it; instead, He is here to rescue a world headed toward certain destruction. John 3:17 (The Voice)
Advent 2019 – A Journey Towards Forgiveness
One of my biggest frustrations with God is that he never goes with my ideas. I love being in charge and making decisions. I think I'm at my best when I'm in control and set the destination. If he would only go with my ideas, we (or and least I) would be so much better off.
But this passage is a firm reminder as to why he doesn't put me in charge. Truth be told, I'm actually pretty terrible at it. I make self-destructive choices. Worse than that, I make choices that hurt and harm others. I'm inclined to make sure fair benefits myself first.
I make choices headed towards certain destruction. Rarely do I make choices that deny short term pleasure for long term gain. I'm capable of wasting an entire day trying to discover how to have my cake and eat it too. And if I can't, I'm totally willing to steal your cake.
My point? Despite my best efforts, to date, I have been unable to save myself. More troubling, the more I have found out about myself, the more I have discovered just how incapable I truly am.
There is a lot I can do for myself. One of the things I am forever unable to accomplish is my own salvation. I need something else…someONE else to do it for me.
Toward Certain Destruction
We're all in the same boat. It doesn't take a long glance at the nightly news to know our world is deeply troubled. Wars, famine, disease, conflict, political division, all are wreaking havoc in our society and around the world. The end result of people looking for something besides Jesus to save them.
In fact, these are all forms of people looking to save themselves. Because I'll be good if my political candidate wins, my team wins, or my country becomes the world's leading superpower. It is a belief that "might makes right." I'll win when I have enough power to keep you from harming me.
And along the way, I'll make whatever destructive choices I need to. We are a world headed toward certain destruction.
Advent's waiting is a time of examination. It opens us up to all of our self-destructive habits, all of our worst behaviors, all of our selfish choices, and invites us to repent. To go from "toward certain destruction" and go "toward life abundantly."
John, today's author, even ends his observation this way.
Light, sent from God, pierced through the world's darkness to expose ill motives, hatred, gossip, greed, violence, and the like. Still some people preferred the darkness over the light because their actions were dark. Some of humankind hated the light. They scampered hurriedly back into the darkness where vices thrive and wickedness flourishes. Those who abandon deceit and embrace what is true, they will enter into the light where it will be clear that all their deeds come from God. (1:19-21)
Advent Series Previous Posts