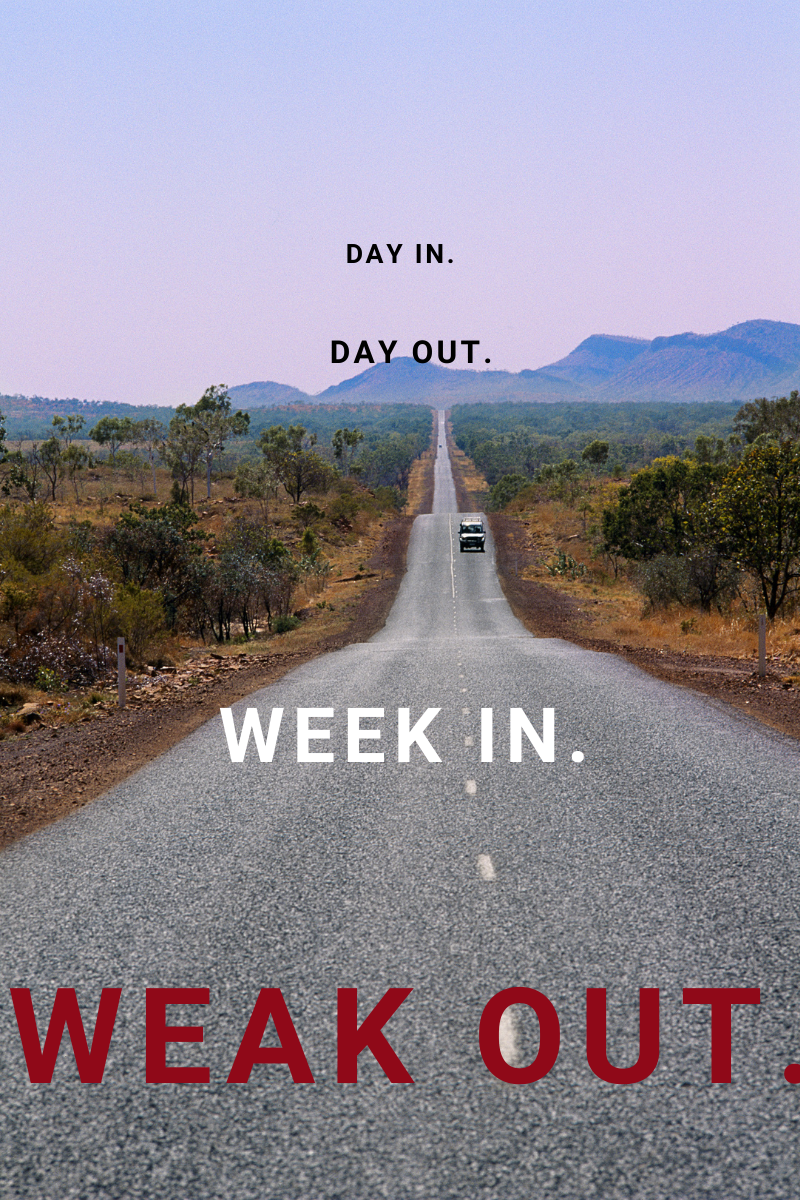 Now that we're through Christmas, and with 2021 firmly in our sights, I wanted to reveal my guiding phrase for the new year: Week In, Weak Out.
A Quick Year in Review
For many of us, 2020 has provided some tremendous growth opportunities. The changing world of remote work has given us commute time back while adding the stress of working around children.
The political discord in our country has given us the opportunity to listen and empathize with others.
The ongoing quarantine has revealed just how much we were wired for community, social gatherings, and physical contact.
Along the way of each of these national and global issues, have been the individual issues of our own stories.
Some of my personal notes from this year include:
Helping business owners transition to the quickly changing world of HR needs in the midst of a pandemic and forced shutdowns.
The selling of one house and the purchase of another.
Home renovation projects (here's looking at you broken water pipes!).
Cancelled vacations, family visits, and social gatherings.
Kids entering puberty and leaving toddlerhood.
Elise starting a new job and her master's program
All of this has revealed to me some of my next growth opportunities. As a success-oriented high achiever, I need my life to be at peak performance.
My guiding phrase for 2021 to help me achieve that is to get better: Day In, Day Out, Week, Weak Out.
Future Growth Opportunities
2021 presents the next great growth opportunity.
Already, my coaching schedule is filling up. The new year always brings new challenges, HR laws, marketing campaigns, and growth strategies. Business owners are looking to turn the page on 2020 and start fresh in 2021. To help them (and all success-oriented leaders) I need to be at my best.
Leaders are hurting. Many are hurting. Most are facing burnout. All are tired.
Helping leaders stay healthy is why I started coaching in the first place, for me to do that well, I need to be healthy myself.
Here are some of my next growth opportunities in the new year:
Read and implement the knowledge from 100 books.
Take an extended work-free family vacation.
Help 100 business owners grow and expand their businesses.
Take Elise on a date at least once a month.
Some of these goals are continued extensions of daily habits, some are drastic increases in my thinking and mindset.
One personal project, however, is consuming a large portion of my time and mental space. It is the main thrust of my idea to grow Week In and Weak Out.
Parenting Well
One of the biggest failures American society has done for men is to provide significant and meaningful markers for manhood. We've largely left our boys to figure out puberty, manhood, emotional maturity, and personal development to themselves.
I decided to do something about it, starting with my own kids.
Starting at age 8, and continuing every three years until age 21, each of my boys will take a trip with me where we talk about growing into responsible manhood.
For my oldest son, that starts this year. We're taking a trip to talk about his coming puberty, self-care and hygiene, service towards others, mindset, and selfless love.
Each and every trip will build on the last. We will spend time in the wilderness, examining what it means to be a well-rounded man.
The only way I can help him do that (and any others that join our journey) is to first work on myself.
Habits, routines, and discipline are built in the daily execution of small, repeatable, success steps.
Day In. Day Out. Week In. Weak out.
That's how we grow. Every day, do something to get better. The next day, repeat that task and do something else. Next week, you'll notice a small improvement. Soon, you'll notice your weaknesses leaving.
Mindset improves.
Grit is stronger.
Compassion is amplified.
Love fostered.
Maturity achieved.
But only through consistent and deliberate attention. Done every day.
Day In. Day Out. Weak In. Weak Out.
I'll be posting about this journey constantly. To keep up to date, find out more, and be a part of the journey, click any of the links below.
Subscribe to my newsletter and receive a FREE 5-day course on productivity: