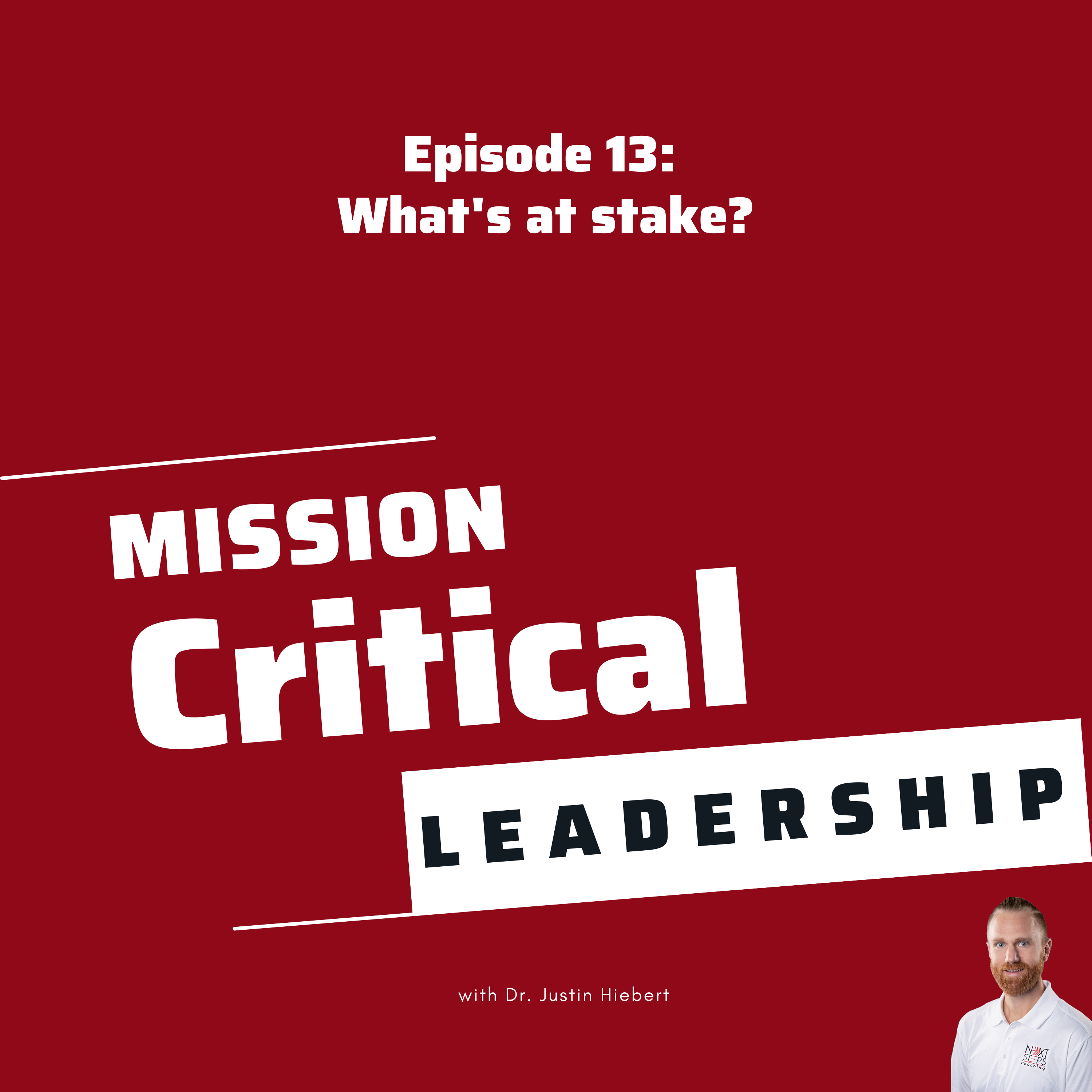 In this episode of the Mission-Critical Leadership podcast, Justin talks about his one big requirement from prospective clients to determine the quality of their fit with his coaching system. It starts by answering the question, "What's at stake?"
The Crucial Question: What's at Stake?
Sometimes we learn through success. More often, however, we learn through failure. Early in my coaching career, I had my "anti-client." He was someone that was such a bad fit for me, we were both miserable. In today's episode, we talk about what I learned from him, and how that shaped my future practice.
Now, with this information and insight, I ask all prospective clients one major question.
"What's at stake?"
This question tells me why the work we will do matters and helps me gauge their commitment to coaching. More than that, it gives them clarity and focus as we start our journey.
It is also something you can use in your daily life to grow your own discipline.
Join me in episode 13 and we examine the crucial answer to the question, "What's at stake?"
In This Episode
In this episode, we talk about:
The growth of coaches to meet specific needs
Just because you can coach someone, doesn't mean you should.
What my worst client (ever) taught me about my own coaching philosophy.
Get yourself unstuck by asking, "What's at stake?"
Why your mindset matters more than just about anything else.
About Justin
Dr. Justin Hiebert works with mission-critical leaders to accomplish the unimaginable. Justin realizes that no leader needs more things to do, so he works with his clients to get the right things done. His clients rise above burnout, captivate their teams, and transform their communities. By engaging their hearts and minds, his clients unlock their full potential to be, do, and have it all. This affords them the ability to leave a legacy of influence and impact on the world. He is a husband, father, teacher, learner, and champion of joy. He resides in Bakersfield with his wife, four kids, two cats, and one dog. In his free time, he loves exercising, riding motorcycles, and doing anything outdoors.
Podcast: Play in new window | Download
Subscribe: RSS