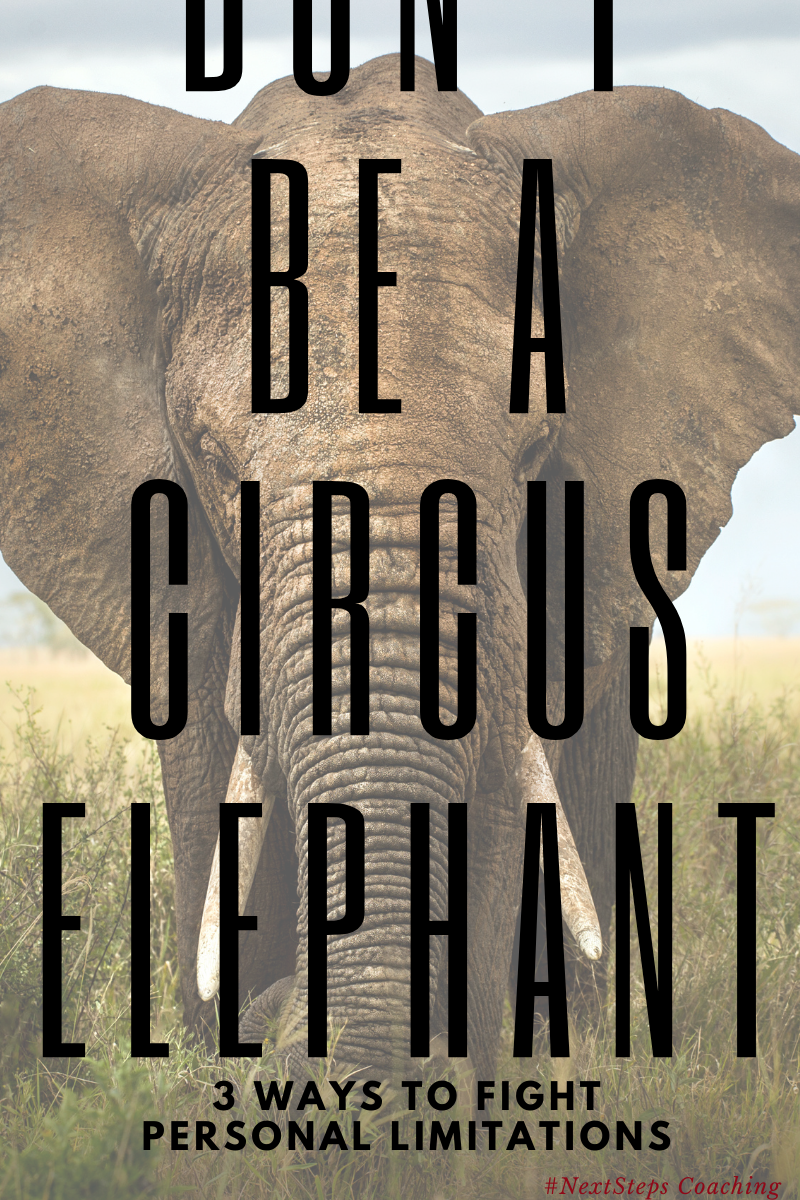 In a world that has trained you to be afraid, to doubt, and to limit yourself my advice is simple: don't be a circus elephant.
The Elephant and the Rope
There's a rather famous story floating around about how baby elephants were trained for the circus.
In short: baby elephants learn their boundaries by being chained to a stake in the ground. As little elephants, they can't break free and learn they can only go so far.
By the time they are adults, the chain has been exchanged for a tiny rope, but the same (now self-imposed) limit still applies. The young elephant learned, "I can only go so far" and it never ventures to try anything new.
The adult elephant is capable of breaking free from the tiny rope, yet it never does.
Why?
Because that's the power of false beliefs.
The False Narrative
When our kids were younger, we told them Bongo stories. In the stories, Bongo was their dog that was big enough to ride on. They would zoom around their Kingdom rescuing animals in need.
In every story, I would describe the adjectives the kids would need to complete their mission.
Kindness.
Love.
Compassion.
Justice.
The list complied was designed to teach them the values, attitudes, and habits we wanted to instill in them.
This was done because of the powerful shaping effect of story.
Plus, it counters the false narratives that we as adults know all too well.
"I can't."
"I'm too dumb."
Clumsy old me."
Every day, we bombard ourselves with narratives and adjectives about how limited we are. And, just like the elephant, we never break free of those limitations believing we can only go so far.
Only have a certain amount of success.
We falsely believe the little rope of lies telling us we can't be more, do more, have more, or love more.
It's time to break free.
Breaking Free
In coaching, we talk about breaking free of limiting beliefs through three C's of action.
Community
The first is to be surrounded by community. Hear the voice and perspective of people who can see your true nature, gifts, abilities, and potential. Surround yourself with the positive people who want and see great things for you.
Competency
Discovering your true gifts and calling is another way to break free. Do you do what you love becuase you're really good at it and enjoy it … or because you're trying to earn someone's affection? Knowing your true skills creates a passionate pursuit of of growth and limitless influence.
Compassion
Look. We're all going to screw up. In those moments of failure, having compassion on yourself is vital. Know your standard, live up to your standard, but have grace on yourself when you mess up. Learn where you went wrong, and correct the problem.
In your quest for personal growth, never believe you have to settle. Don't be a circus elephant.