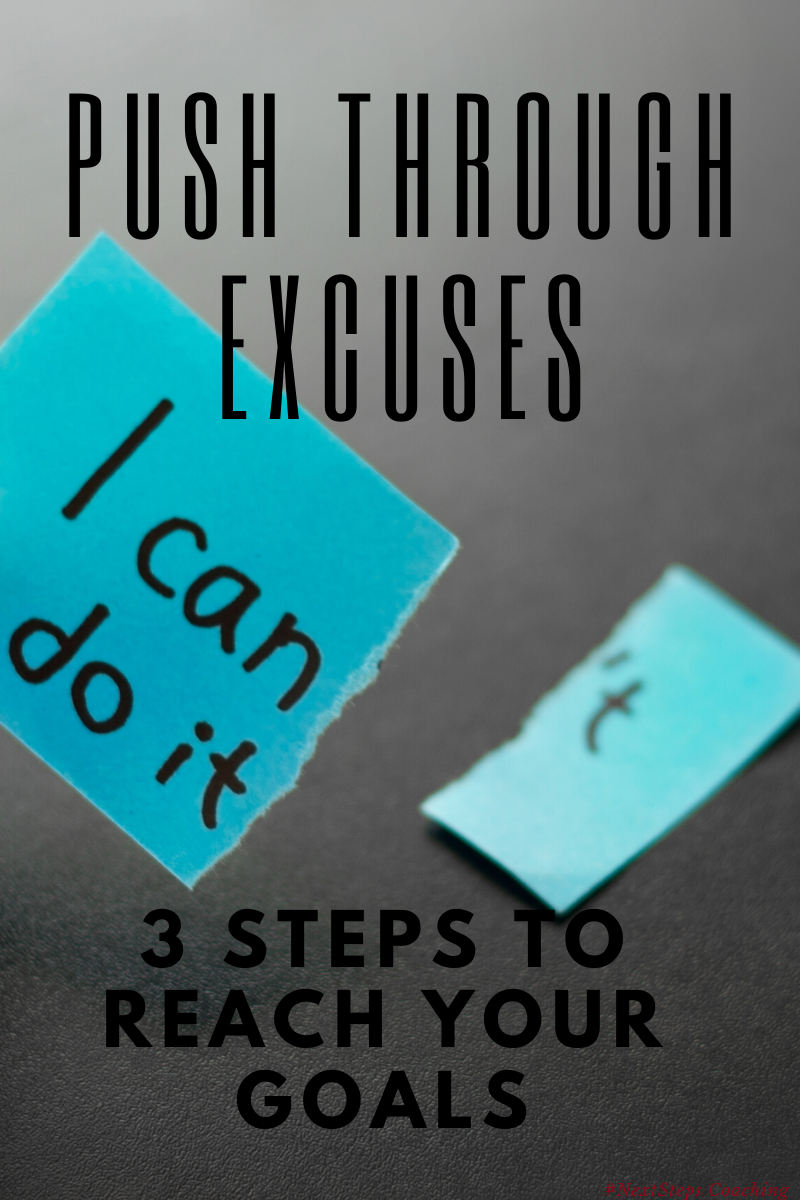 The measure of our success will always be determined by our ability to push through excuses.
A List of Popular Excuses
Tell me if you've heard (or used) any of these following excuses:
I'm Tired
The kids wouldn't cooperate.
My boss was mean.
A bad economy.
No one listens to me.
My spouse doesn't support me.
A team member (or business partner) didn't work as hard as me.
I don't have the time.
The list could keep going, couldn't it? We've all been there. Longing for a vision of what could've been or should've been had things worked out differently.
They can work out differently. Things can always improve. We can always do better. Under no circumstances should we ever forego chasing our dreams.
Our success is limited only by our ability to overcome our circumstances.
Push Through Excuses
Early on in my coaching career, I had a not-so-good client. (That's putting in nicely). I didn't enjoy working with this person. They had a long list of dreams and desires and an even longer list of reasons why they couldn't accomplish those dreams.
During one coaching call, he explained that he couldn't send any resumes out because his ex-girlfriend wouldn't have liked his resume format.
He didn't apply for a job, because a former girlfriend wouldn't have liked the formatting. Everyone else was getting to dictate the direction and circumstance except for him.
We worked on these issues for weeks. Stuck in a dead-end job, he wanted out badly (or so he said). Finally, after a month of inaction, I leveled with him. "Fix it this week or I'm sending your money back. I'm done working with you if you don't want to change."
After a few seconds of silence, he responded, "Yeah, I'm not gonna fix it this week. Thanks though." Within thirty seconds of that sentence, we wrapped up our last call, I canceled his paperwork, and I never looked back.
I'm not sure what happened to him, but I learned a lot from him. I learned about my ideal client, staying motivated, having discipline, and the need to push through excuses.
Our ability to reach our dreams is directly related to our ability to push through excuses.
Determined At All Costs
High-achievers and success-oriented people have learned to push through excuses. Nelson Mandela remarked, "I learned that courage was not the absence of fear, but the triumph over it. The brave man is not he who does not feel afraid, but he who conquers that fear."
Leaders are determined at all costs to push through excuses. They choose to exercise courage instead of fear. Practicing commitment to their goals is paramount. They know how much is riding on it.
Here are three tips to give us courage as we pursue our goals and push through excuses:
Clarity breeds confidence. When we know exactly what we're aiming for, and why it matters, we can muster up the strength to continue.
2.) Recall Your Track record
If no one has told you this yet: Good job. So far, you've made it through 100% of everything life has thrown you. Your strength, capabilities, and commitment have gotten you this far. You have no reason to think you can't make it through the next obstacle, however daunting it may seem.
3.) Journey Together
Life is hard. It's even harder to do it alone. Find a friend, mentor, peer, trusted advisor, or coach. Establish a relationship with the right people who are in your corner and push you towards greatness. The right people help you tell your story better. They are absolutely critical to your journey.
We've all been hurt. Everyone has been lied to. We all know the pain of fear, regret, pain, and failure. Successful people have learned to tell a different story. To rewrite their old history and chart a new path.
The journey to success is not a straight line, but it is one that must be made intentionally. Lean into those goals. Pursue them with passion. Give it your all. Don't stop. In order to reach your full potential, you must push through excuses.
Start today.