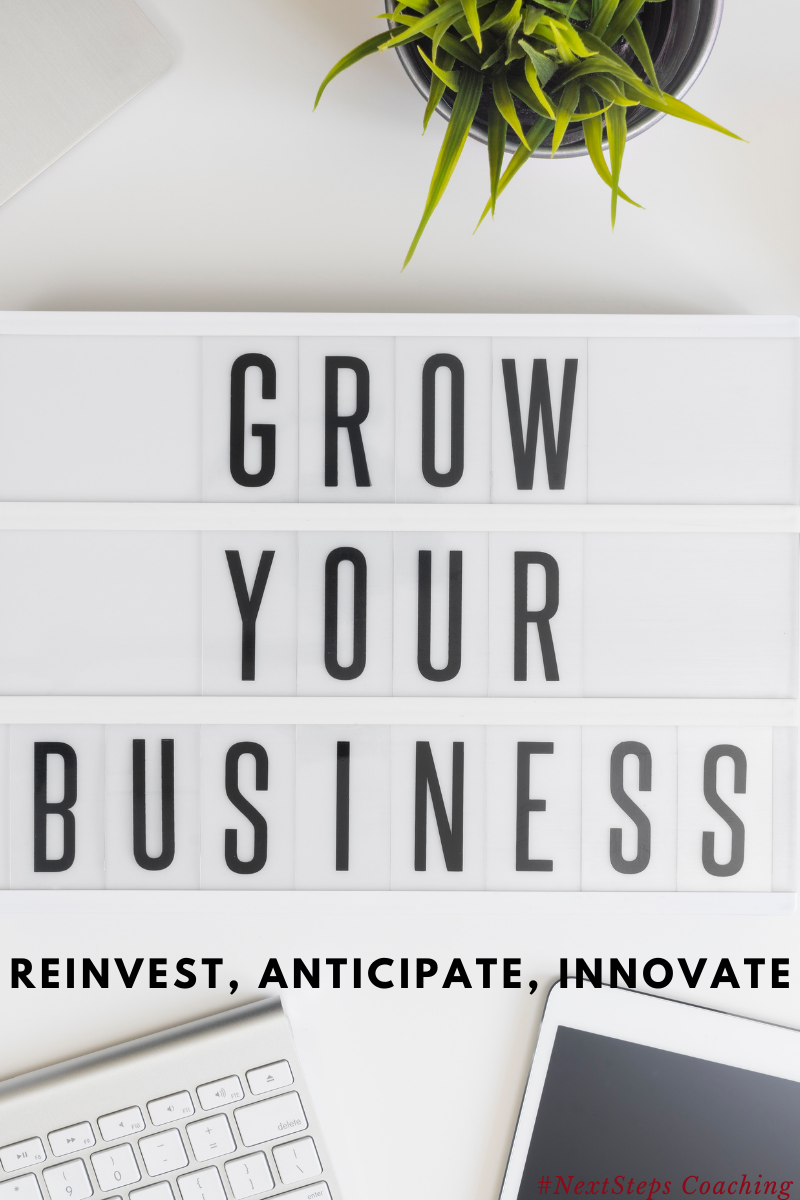 We're continuing our look at Marcus Whitney's Book Create and Orchestrate and how you as the owner need to spend time growing your business.
If you missed any of the previous posts, don't worry, links are at the bottom.
Growth is about understanding that change is always happening. You can and should drive and leverage change to realize the vision and live out the values of the company.*
Reinvestment, Anticipation, Innovation
While highlights the need for growth under the three ideas of reinvestment, anticipation, and innovation. His focus on core aspects of your business are helpful, below I'll use those ideas to talk about how we approach the same topics throughout coaching.
Reinvestment
In life and business, reinvestment is primarily about the daily habits and routines we build into your schedule for success.
Reinvestment asks questions like:
Did you give your best effort towards getting better today?
What goals did you accomplish?
What new goals did you set?
How were you successfully able to eliminate distraction and do something of significance?
Throughout coaching, I highlight the need for these basic elements of our own growth. Many of my clients already know I'm going to ask these sorts of questions, even before I do. It becomes ingrained in the way we think during our times together.
Growing your business is about making small daily deposits of success, consistency, and routine. Otherwise, you will never achieve larger breakthroughs.
Anticipation
Anticipation is about your future self as much as it's about the future market.
When I started coaching, my focus was exclusively on leadership health and burnout. Part of that was my own circumstance at the time. I was in an organization that consistently produced burned out leaders and I wanted to avoid that trend.
But it was also partly cultural. I started coaching as the U.S. economy was still feeling the lingering effects of the 2008 market crash. While in many ways we were 'out of it' by the time I started coaching, many individuals were still terrified and afraid. They were still recovering financially and were scared that something else might happen.
This made them extraordinarily open to talks of leadership health and sustainability, especially my focus on all areas of life.
As the economy recovered, I began to focus more on small business and HR needs. Again, both a personal decision and a cultural one.
It wasn't that the need for leadership health was gone, but for many a strong economy hid the need to talk about it.
Shifting Back
The current pandemic and economic collapse (and the resulting questions) have seen a large uptick in conversations around leadership health. People again are afraid and unable to mask their worry and anxiety.
I've had a number of individuals reach out to me about leadership health, including one organization who basically said, "We're all hurting and can't keep going on for much longer." The long drawn-out year of 2020 has revealed the deep need for total leadership health.
Anticipation for me was preparing for this months ago and being ready to step in and offer coaching and consulting to these individuals and businesses. Your own anticpation needs might be different, but you can start by asking questions like:
What events, meetings, or opportunities are ahead of me in the next six to twelve months?
Who will I need to be to make those things happen?
How are my current behaviors limiting or enhancing my growth opportunities?
Growing your business starts by growing yourself and addressing your own needs first. Reaching your full potential allows you to serve others more.
Innovation
In coaching, innovation is finding new ways to meet current needs.
As a business coach, I often tell young entrepreneurs that if people aren't buying their product, they aren't meeting people's needs. Unfortunately, it's just that simple.
We've seen a huge growth in the online education market, and rightfully so. Gone are the days of needing to be present for live or in-class training. Now, the convenience and adaptability of online learning make this decision a no brainer.
But smart entrepreneurs are already asking, "What's next?" Online learning is the new, current, and necessary trend. But something will be next? Keeping an eye on upcoming methods of delivery, education, product placement, and advertising will keep facilitating steady growth in growing your business.
Here's an example of an online course I highly recommend.
Eight Core Concepts
This list is updated as the blog series continues. Click on any live link to go to that post in the series.
Growth
* Whitney, Marcus. Create and Orchestrate: The Path to Claiming Your Creative Power from an Unlikely Entrepreneur (p. 79). Creative Power. Kindle Edition.