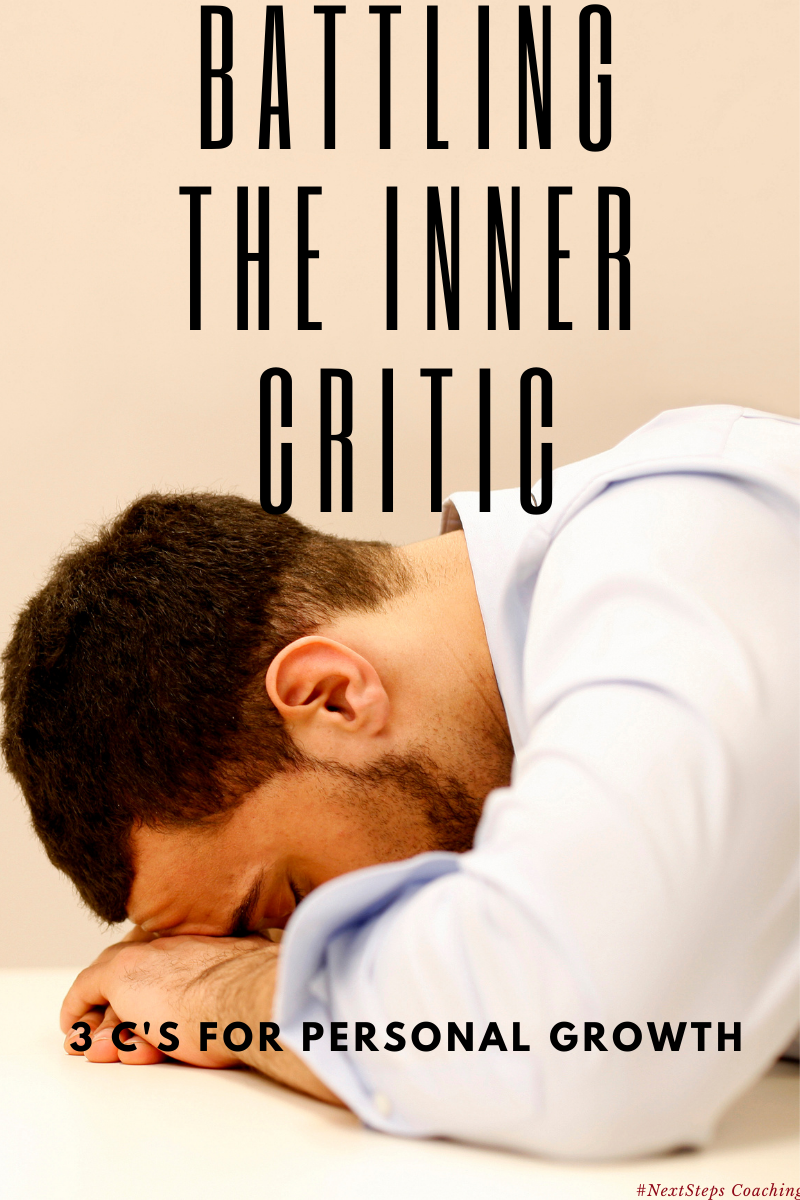 Inside each of us is the self-destructive internal narrative that repeats phrases like, "I'm such a loser!" when we mess up. Learning to silence the inner critic is one of the key requirements to experience breakthrough success. The best way to do that is through the three c's for personal growth.
"Failure is not fatal. It is the courage to continue that counts." – Winston Churchhill
Setting the Stage
Deep down, you know that failure isn't final. Yet, it is an inevitable part of the struggle in life.
If you're a parent, you've seen this countless times with kids. What would happen if, the first time my child tried to talk a walk, he fell over and I determined that walking must not be for him. I'd pick him up, vow to never let him fail again, and prohibit him from walking. I don't want him to be a failure after all!
You'd call me crazy and think I'd be a bad parent … and you'd be right. When it comes to children, parents are keenly aware that temporary failure is a part of the learning process. However, parental insecurities also pass on to offspring and soon children internalize that failure is bad, and not acceptable. The first time I heard my oldest child criticize herself as a failure was kindergarten.
Let that sink in. Somehow, I taught my child before her fifth birthday, that failure was to be avoided because it was a bad reflection on her.
Ouch
All of humanity is embedded with the Inner Critic. Success happens, not just by battling the inner critic, but by overcoming it. Once you acknowledge it, you then want to dismantle the power it has in your life. How? Through the three c's of personal development
Three Sources of Feedback
Competency
The first step in the process is competency. When I first started coaching, I labeled this as an individual's calling. It was the answer to the question: what on earth am I here for? It's a deep examination of you life, purpose, skills, abilities, passions, and goals in life. Your calling, as Frederick Buechner so eloquently put is the place where, "your deep gladness and the world's deep hunger meet." You were put here for a specific purpose. You will only truly be happy when you are fulfilling that purpose. I've worked with entrepreneurs who were looking to start a business, stay at home parents, career professionals in a variety of backgrounds. Each and every one of them had a unique purpose and we structured our time together to help them achieve clarity in their calling. Then, they were called to action.
You are too. Your calling, your greatest competency, is a gift to bless others. That new product or idea, the time with your kids, your neighborhood involvement, it all matters. Your legacy will long outlive you in the thoughts and minds of those around you. The more effectively you engage your calling, the deeper the impact you make on the world, the more significant your legacy will be. By discovering your core competency, your calling, you embrace who you are and fix your mind on completing the deepest parts of your existence.
Compassion
The second part of the process is compassion. More specifically, self-compassion. You beat the inner critic by extending grace on yourself. Several times over the last decade, I've posted a simple question online: do you find it harder to extend grace to others when they mess or to yourself when you mess up? While no results are ever 100% clear, and Facebook obviously isn't a scientific platform, the results are always heavily skewed towards a struggle with ourselves. The problem is that you know your own internal moral compass. When you don't live up to that, it's a frustrating and embarrassing failure. When someone we love screws up, it's a forgivable oversight, when you screw up, it's a violation of your own personal moral code and honor.
In spite of how hard it is, the journey towards self-compassion is a necessary one. During my master's program, my wife made me a shirt that said, "Be Tender To Yourself." It was a reminder that just as I have forgiven others, I must also forgive myself. I spent years in counseling unable to do so. It wrecked my life. While your own journey may not see you in counseling, I'm guessing you also struggle with it.
Here are two ways to begin the journey towards greater self-compassion.
The first part of the problem is to put yourself, more pointedly your mistake, into someone else's shoes. I'm not saying don't accept responsibility or blame someone else. The idea is to imagine that someone else committed the error. If Bill had promised you the expense report at 7:00 last night, but got distracted dealing with a sick child's vomit on the floor, would you refer to him as a lazy, good-for-nothing, idiot? My guess is (my sincere hope is) probably not. Instead, you'd reassure Bill that everything is okay. Extend yourself that same grace. If you're not bothered by someone else doing it, don't be offended when you do it.
The second way to engage in self-compassion is through humor. When you screw up, learning to laugh at yourself is a vital and necessary step. Spilled your orange juice? Instead of criticizing yourself for being an idiot, make a comment on how far it got. "Man, this time I was able to get it on the floor, the walls, and the ceiling. I really am talented!" Shifting your perspective, and in the process finding a way to compliment yourself, destroys the power of the inner critic.
Community
The final piece of the puzzle is community. In community, you can discover who you really are. Friends, parents, coworkers, a spouse or life partner, a trusted boss, mentor, and former professor all have insights into what makes you, you.
Seek authentic feedback from others. What are your strengths and weaknesses? How can those who know you best affirm your calling? What does your support network look like? By examining the community you participate in, you can assess that you are on the right path. During coaching, you can also use that time to change or adapt your community. If you try to assemble your feedback team and realize that no one supports you then you need new friends! Having a well-rounded, supportive, diverse community is key to your success, and the only way to make sure you have one is analyze it! Community grounds and surrounds us in the difficult moments of life, giving us the energy and strength to carry on.
This is an excerpt of my upcoming Shift. To receive news and alerts about its upcoming release, subscribe to my newsletter.