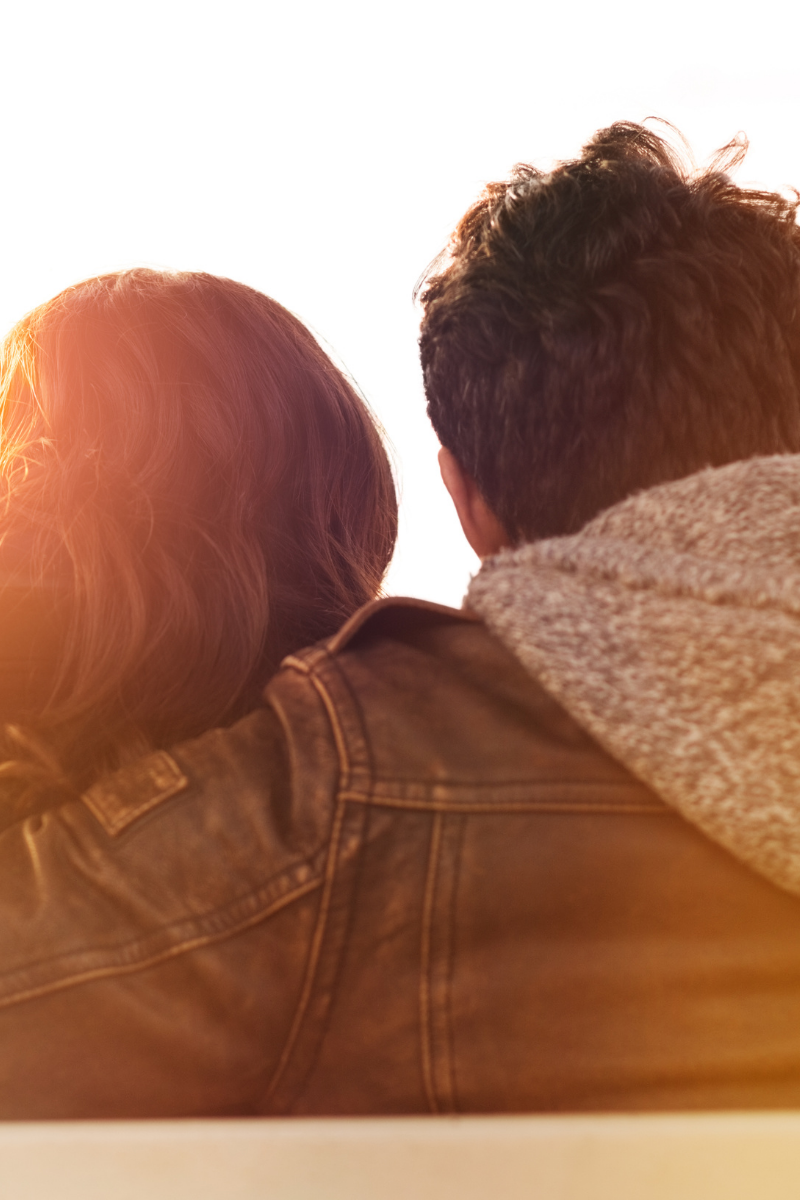 The only way you will reach your full potential is if you intentionally spend time fostering key relationships.
My wife and I have been married for fourteen years. Together, we have four amazing children. We met in college. Separated by a year, I had my eye on her stunning beauty even before she officially enrolled in the school.
You see, she stopped by on an official visit one week as a soon to be music major. She poked her head into the concert band I was a part of to check it out. I remember being captivated by her beauty the moment I laid my eyes on her. I even offered to help chaperone her around the campus for the weekend, but was told by the band director to go, "nowhere near her."
Before long, she was at the school, I mustered up every ounce of courage I had, and attempted to talk to her. As an extraordinarily shy young person, I'm sure I was incoherent at best and downright possessed sounding at worst. But I had done it! I talked to the woman of my dreams.
From there, a blossoming friendship started, followed by dating, engagement, and marriage. Over the last fourteen years, we both completed our undergraduate degrees. I've also added a master's and doctoral degree, started my own business, moved us from Kansas to California to Colorado and back to California. Every leg of our journey has been full of heartbreak and triumph, setbacks, and victory.
Building For Better
While I could write a book on how amazing she is, and the many ways she has sustained me in our years together, here is what is of most importance now: I truly believe that I couldn't (or wouldn't) be half as successful as I am without her by my side. Even as an introverted and fairly well-disciplined individual, I recognize and understand the necessity of vital and life-giving relationships.
It has been her unwavering belief and support in me that has gotten me through the darkest days of my life. It was her tenderness and compassion that got me through the most difficult work experience of my life. Surrounded and attacked by an unhealthy work environment, she got me through it and encouraged to keep pressing on. Feeling the weight of doctoral school and my growing thesis, it was Elise that reminded me what I had been called to do. Overwhelmed by personal failures and stuck in unhealthy mindsets, she encouraged me to change my thinking and alter my end destination in life. At every step of my journey, she has had the strength I lacked to keep me pushing on towards my goals.
Fostering Key Relationships By Sharing The Burden
If you want to go fast, go alone, if you want to go far, go together. This proverb gives us our final key insight into the Shift mindset: we must make this journey with other people. One big key to success is having someone else to share the burdens (and joys) of life with. In fact, research has shown that a lack of human interaction results in, "psychological and physical disintegration, and even death." Anyone who faced the massive work from home transition during 2020 no doubt felt the reality of that.
During the COVID quarantine of 2020, my wife's grandmother had to change skilled nursing facilities when one shut down. She was moved over the course of the weekend but then forced to self-isolate for two weeks because of the threat of the virus. When family checks on her two weeks later, this healthy and robust woman was near death.
What happened?
After she was moved in, there was no social interaction. Additionally, the staff couldn't interact with her outside of handing her food at her door because of the quarantine. In their haste to get her isolated, the facility negl
ected to hook up her television or hang pictures on the wall. Her furniture was not set up in a conducive manner for her new room, making it difficult for her to use the restroom. She was socially isolated with no physical interaction of any kind for two weeks and found it physically difficult to move about in her own home for basic human needs!
No wonder the end of the two weeks found her near death. We immediately started preparing for the worst. Several family members took time off to be with her, in what we thought were going to be her last days. They set up her phone, television, and artwork. They gave her fresh meals, rearranged her furniture, and took her on walks. In less than a week, she regained her strength, physical abilities, and desire to live. That's the power of human interaction with other people.
Finding,Building, and Fostering Key Relationships
I've recently become a fan of examining ancient cultures. What can they teach us about our modern society and ways to improve or existence? One of those areas of study has been the ancient Spartans. A formidable fighting force, their battles are legendary. These men, from age seven on, trained to do one thing: fight for Sparta. They ate together. Trained together. Went to school together. Slept together. Hunted together. The reason they were so good is that they knew their partners and those beside them in battle so well. It was built into their training.
Similarly, a sister city, that of Athens, developed a similar policy. However, as the Spartans focused on war and battle, the Athenians focused on government and society. In her book on ancient civilizations, Susan Bauer recounts how Athenians ate together frequently. It was not just expected and encouraged, it was demanded. They even had a policy in place that should you decide to eat by yourself before the community meal, you were to be ridiculed.
Ancient peoples knew, whether, through political necessity or societal continuity, that relationship mattered. In our digital world, much of this has been lost. As a society, we are increasingly comfortable in digital interaction. As a result, physical relationships have become an art. In spite of this waining of personal-physical relationships, they are still vital and necessary. Your success will always be limited if you don't have others in your corner working alongside you. If you're looking to build or deepen those significant relationships, here are three keys to success.
1.) Affinity.
The easiest place to start and build the necessary relationships to sustain success is through affinity. Find like-minded people who are traveling the same journey. This is one reason I hold master-mind groups. These hour-long group coaching sessions pair people of similar professions and experience together for group coaching and accountability. While mine typically revolves around business owners, health professionals, and leadership development specialists, masterminds exist in all fields.
You can also plug into local networking groups. Many times these are less formal, less expensive, and provide another benefit. In addition to networking with like-minded individuals that can encourage and support you, you're also expanding your network and potential client base. Your new clients are not only those in your particular group but all of their contacts as well.
Friends also fall into this category. Find another friend with an entrepreneurial spirit and hold weekly accountability. The financial investment in these is free, but it's still a highly motivating factor. Schedule a thirty-minute session with each person getting fifteen minutes to share. In your fifteen, share the following: what your goals were for the week prior, how they went, what your new goals for the week are, and the consequences of not completing them. These consequences could either take many forms. On the grand scale, there could be the realization that if you don't take action, you never will, and this business idea will die inside of you. At times, you may also need to make the consequences more practical and agree to by your friend's lunch at the next meeting if you don't accomplish everything on your list.
2.) Diversity.
Once you have your foot in the door with an affinity relationship, the next level is a diverse one. This is one far too many people miss. We're so used to seeing like-minded people that we fail to see anyone different than us.
This is detrimental to your personal development. Ironically, after years of researching and writing on burnout, I decided not to write about burnout for my thesis. At least not directly. Instead, some of the job changes I was experiencing at the time caused me to shift my focus to this issue of diversity. I examined how a diverse culture affects community engagement and reception. Whether you want to look at churches, non-profit organizations, or business culture one thing across all spectrums of research is clear: the more diverse the team, the better they perform, the better they provide better user experience, and the final product is better in every way. In short, here is my 180-page thesis: if you want to make a lasting impact seek diversity.
Diversity can have many factors to it. Race, religion, gender, educational background, and socio-economics are only a few. The more diversity you can bring in to your immediate sphere, the better you will be. This happens, because each person is better able to help show you your blind spots. If you assemble a team that looks and thinks just like you, you will potentially end up with a phenomenal product …. for no one but yourself. Instead, diversity allows different participants to share their points of view and create a stronger end product. Intentionally seek out a diverse team and ask them to point out ways for you to grow. You'd be surprised how much they point out, and how quickly you can make those changes.
3.) A Level Above.
The third area for those key relationships is what I call the "leveled up" relationships. These are people who in your eyes have leveled up beyond where you currently are.
Think about it. Do you want to take relationship advice from your uncle who has been divorced four times or from someone who has been happily married for fifty years?
Do you want investment advice from your broke friend who sleeps on their parent's couch or from a millionaire?
Once you've identified areas for personal growth or new habits you want to make, finding those relationships can start with looking for those that have already leveled up in that particular area.
—
This is an excerpt from my upcoming book SHIFT. To receive a complimentary pre-release copy go here.
Prefer video lecutures? I've got you covered there too! SHIFT is available (with additional material) as my Elite Mental Academy. Sign up for my newsletter to receive special pre-release pricing and bonus offers.