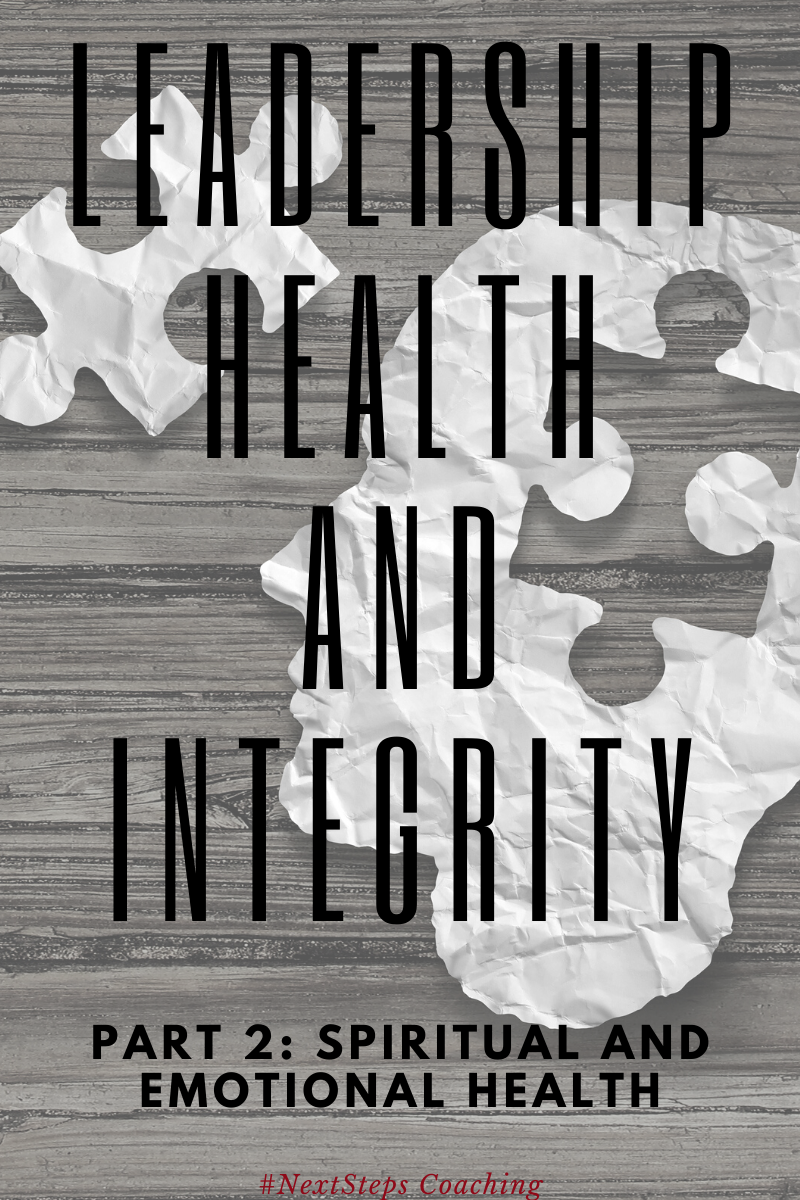 Spiritual and Emotional Health in Leaders
The spiritual and emotional health of leaders is a necessary component of holistic health.
We're in the middle of a series on leadership health. Want to catch up? Part 1 is here.
Spiritual Health
Healthy leaders engage in ancient practices of development, often called spiritual disciplines. Times of quiet reflection, meditation, prayer, rest, and community discernment are a few examples.
An example of leadership spiritual growth is a hobby. Hobbies are those life-giving activities that serve as a reflection of our unique personality. Hunting, fishing, reading, flying drones, calligraphy.
Need help? I did. Go here.
In fact, I found that is often the case for high performing leaders. Engrossed in work and personal development (for the sake of further accomplishment), high performing leaders have a hard time unplugging and engaging in activities with no real goal or purpose other than enjoyment.
I've used comments like, "I have fun when I'm winning." That's enormously frustrating to people who are playing to have fun. (And vice versa).
Other similar phrases include:
I don't know what to do with downtime.
I'm not bringing too much work with me, I'm on vacation.
My hobbies include winning and getting better.
(I may or may not have said all of these….) 😬
But spiritual health is rooted in calling and it is about the full development of a person's humanity. Below, is a partial list of spiritual practices and disciplines to help you grow.
Practices for Spiritual Development:
Prayer
Journaling
Meditation
Scripture Reading
Gratitude and Thankfulness
Fasting
Sabbath Rest
Singing
Silence
Solitude
Have others? Leave a comment and let others know how to grow in spiritual health.
Emotional Health in leaders
Emotional health is the next step to fruitful and productive leadership. In my experience, this is the most neglected area of health. The emotional health of a person sits in the unique field of being almost completely internal in nature through past experiences, while also being almost completely externally visible through actions, perceptions, and relationships.
Peter Scazzeo notes the concerns of emotional health:
Emotional health is concerned with such things as: naming, recognizing, and managing our own feelings identifying and having active compassion for others initiating and maintaining close and meaningful relationships breaking free from self-destructive patterns being aware of how our past impacts our present developing the capacity to clearly express our thoughts and feelings respecting and loving others without having to change them clearly, directly, and respectfully asking for what we need, want, or prefer accurately assessing our own strengths, limits, and weaknesses, and freely sharing them with others developing the capacity to maturely resolve.
For the emotionally healthy leader, effective emotional health requires a previous recognition and engagement with the emotional traps, snares, and shortcomings at earlier stages of life. Family dynamics, addiction triggers, and shortcomings all need to be worked through and reflected upon.
But it is important to remember that emotional health may start internal, but presents external.
Snappy comebacks.
Biting remarks.
Constant criticism.
These are a few outward signs that something is wrong internally. Healthy leaders, by contrast, are generous. With their praise, with their affirmation, with their encouragement and desire to see others succeed and grow.
Because this is such an important topic, we are going to examine how to grow in emotional health and intelligence next week.
For now, take this test if you want to know where you're overall health is.