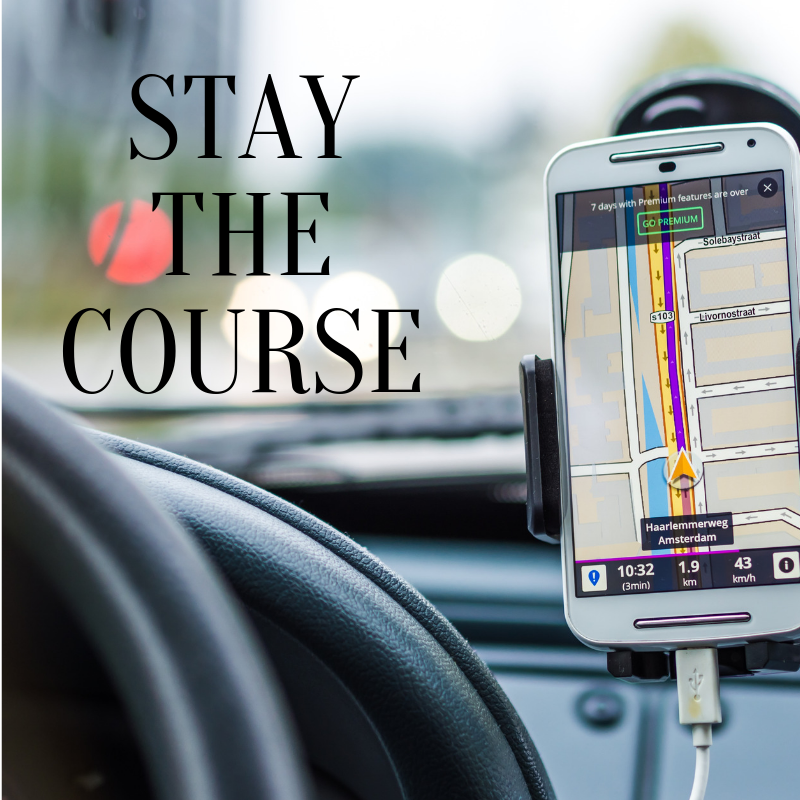 Staying On Course
Recently I was on a trip and I loaded the destination into my phone's GPS, and started driving.
I didn't feel like I needed it at first since I know how to get out of my neighborhood. But it's easier to do in the beginning than to plug it in while driving.
Through a series of short straightaways and quick turns, I soon found myself on the highway.
Stay on this road for 227 miles.
Immediately I had a knot in my stomach.
I knew it was a long trip. I knew how many hours it would take. I had even accounted for traffic times so I could make it as short as possible.
But there's still something about seeing that number and the accompanying time frame that made me feel a tad frustrated.
Can you relate?
Why we need to practice staying on course.
Whether we like it or not, we all need to follow the advice to stay on course.
Trying a new startup venture? Stay the course.
Repairing a broken relationship? Stay the course.
Losing weight, changing your eating habits, or completing a degree? Stay the course.
Too often, we bail too quickly on our goals and never see real results. We hear the other dreaded word of a navigating GPS system: "Recalculating." It means we've veered off course and need to get back on track.
Staying the course means eliminating distractions.
Staying the course means staying hyper-focused.
Staying the course means developing extreme discipline.
Staying the course means knowing what the end destination is, and refusing to stop before you get there.
Staying the course is not easy, but it is deeply rewarding. It is the only way to truly get to where you want to go in life.
The only way your side hustle becomes your main gig is by staying the course.
The only way you'll have the body you dream of is staying the course in your diet.
The only way to have a thriving marriage, growing business, strong team, or financial success is by staying on course.
Your goals, dreams, visions, and plans for life are all at on the line. Don't settle for anything less than reaching your final destination.
Stay the course!