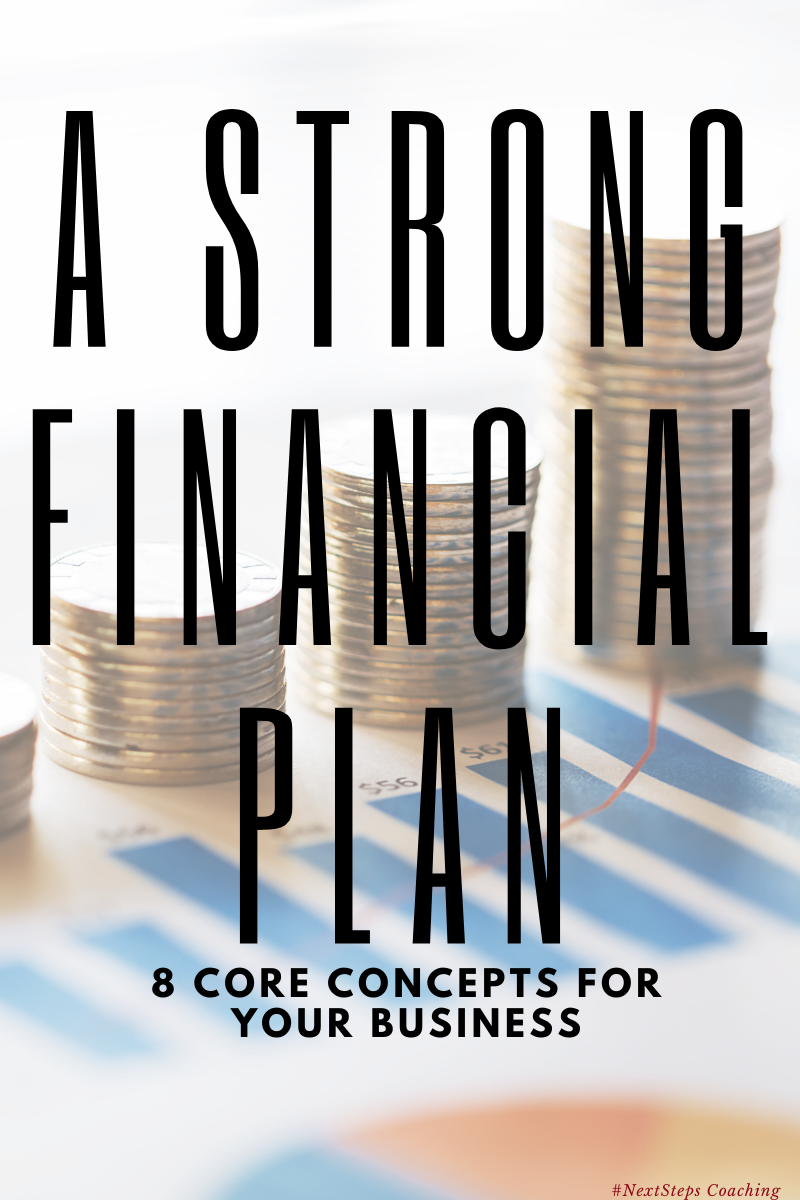 We're continuing our series on Marcus Whitney's book Create and Orchestrate, and his eight core concepts to successfully run your business. In today's post, we're examining how to have a strong financial plan.
Financial Planning: An Introduction
It seems self-explanatory that a business needs to have a handle on its finances. Yet most new entrepreneurs don't understand the importance of finance in their business. In my experience, finance is the aspect of business that most new entrepreneurs are weakest in. Understanding finance is critical to ensuring the sustainability of your business.*
Whitney's assessment has been true not only of my own entrepreneurial journey but of many of the businesses I have coached and partnered with along the way.
I'll never forget the first month I "made money" as a coach. Someone had actually written me a check, I was profitable … right?
Not so fast. There were the marketing bills I had to pay, the time spend on social media engagement, the debt collected by getting more education, the operations costs, and other bills to pay. All I had really done was gone slightly less in debt that month.
The next month, more people wrote checks. In the following months, there were a few more. Eventually, I was making more from my part-time hustle than I was from my full-time gig. That was when the profit started to happen.
Whitney highlights six key financial components every entrepreneur needs to be aware of in order to have a strong financial plan. These include:
Revenue
Expense
Profit
Assets
Liability
Capital
If you want to see what Whitney says about each of these, pick up a copy of his book here.
For us, it's enough to note them and talk about the implications from a coaching perspective.
The Benefits of a Strong Financial Plan
When I first began coaching, I spent my time focusing on leadership health and burnout. Immersing myself in the material and understanding the causes and symptoms, led me to coach my clients through what I call the "health and integrity pyramid." We examine seven core aspects of everyone's life and how they need to address pain points and growth opportunities in each of these areas.
The capstone project of the pyramid is financial freedom. This is important because it not only addresses personal and business financial components but to the ultimate goal of purpose-driven entrepreneurs: generosity.
Leaders, business owners, and entrepreneurs are almost always on a mission. The work they do is to give their life meaning, but to extend that meaning and purpose to others. Leaders who are clear on their calling (the what and why of the work they do) almost always come out with a need to give back.
To be generous.
They want to bless others.
The journey they started on is ultimately not about them, it is about the people they get to help.
And along the way, if you're focused on your debt, your limited finances, or your inability to get out of the red, you will be limited in the effect you can have on others.
First, we get their personal finances in order.
Then we get their business finances in order.
Finally, we get them to live a life of total generosity.
Total Generosity
Clients can always tell when it's about the money. I learned this a long time ago. If I subconsciously bring to a relationship the need for a sale to pay my electric bill this month, my clients can pick up on that. Time and time again, I've seen this play out, not only in my own life but in those of my clients. When you have more "month than money" you can only do so much good in the world. However, when my finances are in order, I can multiply the effectiveness of my money and the blessing that I am to others.
If I'm focused on my own needs, I cannot serve those around me. It is only by being financially free that I can ultimately leave a legacy of influence and impact.
That's why we focus on total generosity. This encompasses a strong financial plan that is free of debt, structured for profit, and able to give back freely.
2020 has been difficult for many of us. We've seen just how thin our true security is, and how financially stapped we are. If you're interested in breaking free of your debt and living a life of total generosity, I'd love to help. For a free resource and to discover more about the health and integrity pyramid, you can read this series I posted on LinkedIn.
Eight Core Concepts
This list is updated as the blog series continues. Click on any live link to go to that post in the series.
Finance
* Whitney, Marcus. Create and Orchestrate: The Path to Claiming Your Creative Power from an Unlikely Entrepreneur (p. 61). Creative Power. Kindle Edition.